What should I know about the syringe?
A syringe has 3 major parts: the needle, the barrel and the plunger. The needle goes under the skin to put in medicine. The barrel holds the medicine. The barrel has markings on it like a ruler. The markings are for mL's (milliliters). The plunger is used to get medicine into and out of the syringe.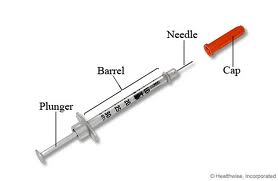 Subcutaneous shots must be given in small amounts. You will usually get an "insulin syringe" for a subQ shot. Insulin syringes will hold a maximum of 1 mL of medicine. The syringe shows divisions well marked with 10, 20, 30, 40, 50, 60, 70, 80, 90 and 100. 100 is the same as 1 mL. The marking at 50 is the same as half of a mL.
You may get a "TB syringe". A TB syringe holds up to 1 mL of medicine, and has a needle that is slightly longer than an insulin syringe.